Fun English classes
for Kids
Great custom lessons
with native English teachers
Modulo offers exclusive, high quality, fun English courses for young learners.
Courses
Get in touch
English classes for kids great for improving or learning a new language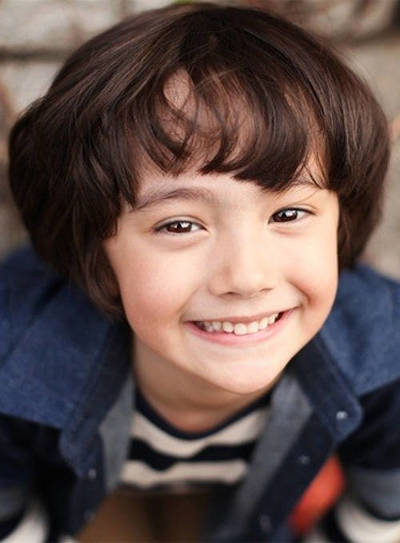 Courses
Choose your own ESL Program
The best English language courses in Bangkok or online for every student, kid and teenager
MODULO GO
Our standard course with a focus on language acquisition and practice, ideal for lower level students and students in Thai schools.

Focuses on essential language skills for communication and primary education.

---

Language learning
Speaking, Grammar, Vocabulary


---

Other content
Life, Culture, Phonics

MODULO INTERNATIONAL
Ideal for students of EP, bilingual and international schools, this program offers modern pedagogy and a global vision.

International standard language course with integrated learning of other subjects.

---

Language learning
Speaking, Grammar, Vocabulary


---

Other content
World, Life, School

MODULO KIDS
Modulo Kids focuses on general child development through language, creative activities and physical play in small groups.

Great for a fun course and learning about the world and many subjects in English.

---

Language learning
Speaking, Vocabulary, Phonics


---

Other content
Thinking, Development, Play

Modulo Go
Language focus for all students
Our standard course with a focus on language acquisition and practice, ideal for lower level students and students in Thai schools.
Speaking practice
We get children talking from the very beginning with conversation, as well as plenty of question and answer practice.
Fun and games
Our method uses children's natural skills through music and movement with fabulous songs so they will remember the language.
Phonics and Reading
Let's Read … We also teach all our young learners new phonics and reading lessons to help them read fluently too!
Effective learning
We teach each language pattern step by step and repeat it with plenty of practice which leaves every child feeling 'I can do it!'
Oxford's Let's Go
A1 Beginner to B1 Intermediate
From
The Let's Go series starts at the very foundations of the language, such as the alphabet and phonics all the way to fluent conversation. It's great ESL preparation for the future and will help all children achieve big things at school and also in life!
Maximise children's talking time in class through dialogues, pair work and communicative games. This combined with the rhythm and melody of the acclaimed Carolyn Graham songs makes the language memorable.
Success from the very beginning.
Book
Our students use the Student's Book in class and the Workbook at home. We also provide a wealth of other materials and games to complement our lessons.

Teachers
All our instructors are fully qualified and experienced native-English speakers. They're fun, too!

Audio
We also use audio CDs to practice listening and to teach our students fun and interesting songs specially composed for this course.
Join the many Modulo students who have improved their English!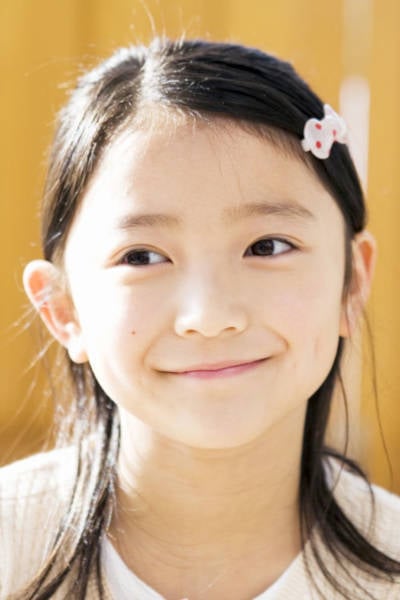 Modulo International
International standard in children's language education
Ideal for students of EP, bilingual and international schools, this program offers modern pedagogy and a global vision.
CLIL
We connect the language content with the outside world and the child's own learning at school on different core subjects.
Culture and Values
It's important for today's children to have a broad horizon, a global vision and an understanding of others in Thailand and the world.
Reading and Writing
Reading and writing are critical skills for the child's success in school at all levels, from primary to university and beyond.
21st century skills
In a changing world, communication, critical thinking, creativity and collaboration are important aspects of learning.
Pearson's Big English Plus
A1 Beginner to B1 Intermediate
From
Big English Plus is a six-level course that engages students with a variety of cross curricular and real world content, encouraging them to discover the world around them through British English.
This series helps develop essential 21st century skills via challenging activities that build communication, critical thinking, collaboration and problem solving skills.
Modulo helps children achieve good grades, to make their parents proud and to use English in everyday life.
Book
The BE+ program is comprised of 6 quality British pupil's books and activity books from Pearson ELT.

Teachers
Big English Plus is a great tool for studying with our great experienced English teachers.

Audio
This curriculum also comes with interesting audio CDs for our students to improve their listening skills.
Join the many Modulo students who have improved their English!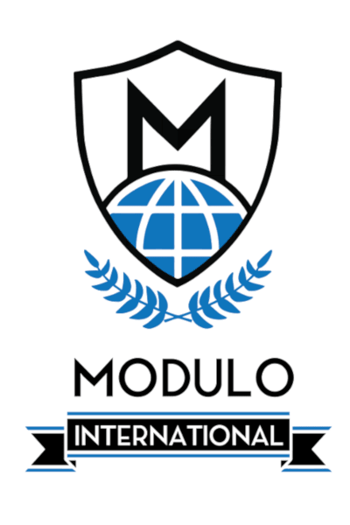 Modulo Kids
International development course
The recommended course for parents who want their child to get a head start in life. Bright kids from the very beginning!
Language acquisition
All learning, activities and games are led in English, just like in an international school. Language is a key element of development.
Fun and games
We believe that children learn best by doing. All our learning activities involve hands-on activities and play in small groups of 4 kids.
Phonics and Reading
We also teach children phonics and reading to help them read fluently, too! Story-telling magic catches children's imagination.
Complete course
Modulo Kids explores many topics about the world around us, including maths, science, geography, music and the arts.
Modulo Kids Curriculum
A1 Beginner to B2 Upper-Intermediate
From
A caring environment to support your child's development in English at any level.
At Modulo Kids, we believe every child is unique. Through a combination of hands-on and student-centered learning in English, we help develop children's bodies, hearts and brains with games and play.
Bright from the start.
1 - Communication & Language Development
Allowing children to speak, use and listen to English in all situations.

2 - Physical Development
Offering opportunities to be active and to develop fine motor skills.

3 - Personal & Social Development
Helping children to develop social skills, team work and confidence.
kids.modulolearning.com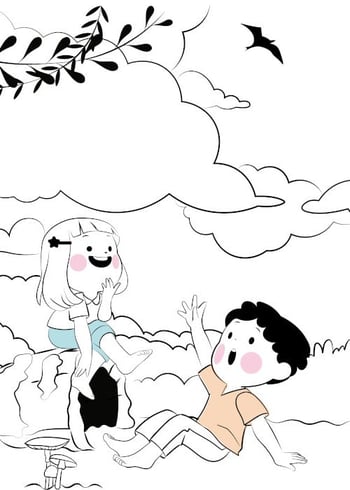 School
Our home, Our family
Check out the atmosphere of Modulo's great language institutes for kids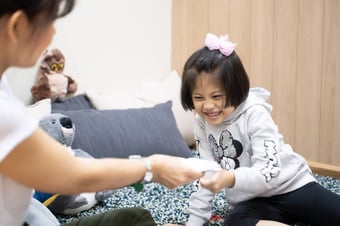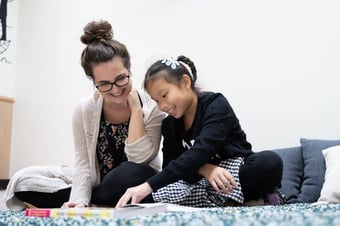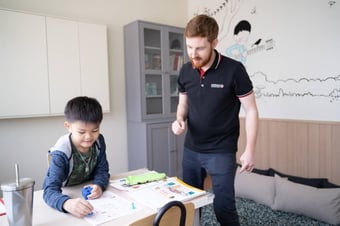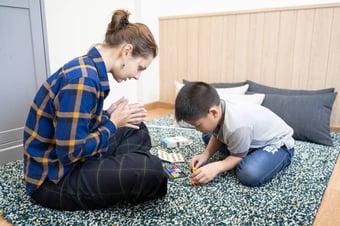 Content
Modulo's courses for kids
Modulo offers great English courses for our young ESL students, at all levels
International School Programme
For current ESL students and admissions
We teach students from international schools using both the British and American curricula, as well as the IGCSE and the IB Diploma Programme.
Modulo is committed to internationalism, developing the global citizen, providing an environment for optimal learning, and teaching in an international setting that fosters understanding, independence, critical thinking, and cooperation.
Bilingual Schools and EP
For intermediate-to-advance-level speakers
We teach students from Bilingual Schools and English Programs just like we would teach young native speakers
Studying in two languages is about more than just language proficiency. It opens and develops the mind to prepare children for the 21st century and expands the choice of both university and career for the future.
Thai Schools
From Starter to Speaker
Learning English is a key objective for Thai youth in the 21st century. Modulo helps to develop both communication and test-taking skills.
Learning a foreign language is not just great for brain development, school results and creativity. It is key to success in a fast-changing, global world of communication.
Modulo Kids
Key Highlights
Fun and Interactive
Children learn best when they can see and do. We make sure they participate in the learning experience and use the language.

21st Century Skills
Today's children need to learn valuable skills such as critical thinking and independence, as well as creativity, communication and collaboration.

CLIL
Content Language Integrated learning means that we teach extra academic content such as science, math and geography through English.
Teaching
Our method makes learning easier
Simply follow these 4 steps to language learning success
1 - Assessment
We start with a free assessment of your kid's current level and skills at school in Bangkok or online.
2 - Objectives
We then set clear and realistic objectives for your child based on what you want and what they need.
3 - Learning
Our qualified and experienced teachers help them learn the language of choice, in-person or online.
4 - Speaking
We help them use the new language in a natural, fun setting to build fluency and confidence.
Features
Why Modulo is the right language school for you
We care about our students. Your success is our success.
All age groups
Our youngest students start studying at 6 years old and there is no maximum.
All levels
We teach effectively from the first beginners' phonics to advanced grammar rules.
Amazing teachers
All our teachers are Native speakers, professional, qualified and experienced.
Personalized courses
Students can choose to study a course designed especially for their wants and needs.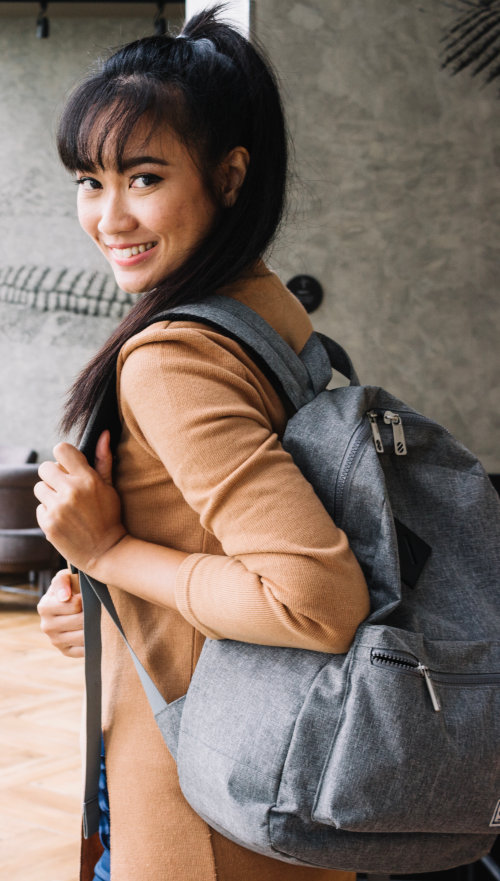 International atmosphere
When you study at Modulo, you become part of our multi-cultural family.
Flexible and convenient
Choose when to study to match your work/school's schedule. 7 days/week, all day in-person or online!
Great value
With Modulo, you receive the best quality at a reasonable price. No hidden fees!
It works
Our proven, effective methods will allow you to progress quickly while having fun.
Amazing Teachers
They are, put simply, the best
All our English teachers are carefully selected for their professionalism, qualifications and experience. They go through Modulo's high-quality training programs and receive regular coaching and workshops continuously through their career with us.
About our international English teachers:
Native speakers
University degrees
Teaching qualifications
Modulo elite training
Teaching experience
Did we mention they were also great fun to be around?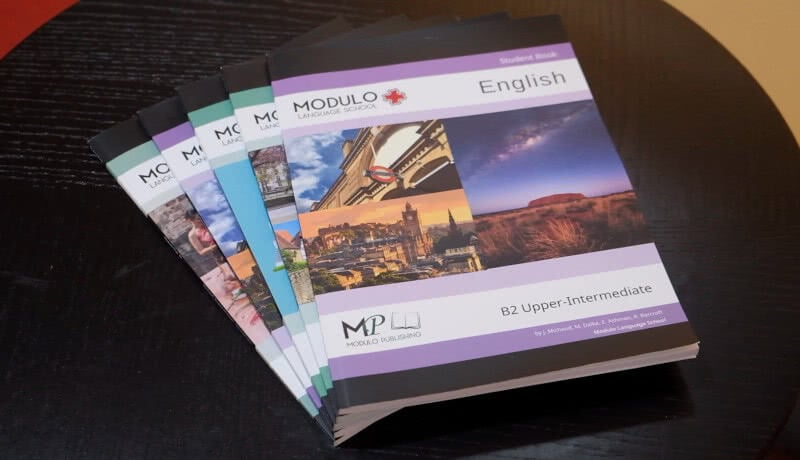 Great Books
Great tools, just for you
The Modulo materials are custom made to maximize student's progress and to get you speaking English right from the start. With 6 levels to choose from, we have enough to keep you busy from your first words to mastery.
The Modulo language books are the perfect materials for our proven and very effective teaching methods and they are only available at our schools. Made with our students, for our students, by our great academic team of senior instructors.
We do not only teach English learners. We teach people. All our classes are customized for you.
"When I don't know the words, teachers help me through explaining words' meaning."

Felix

English for Kids
"เรียนที่โมดูโล่ สนุกกว่า รร 30% ชอบมาเรียน ที่โมดูโล่ อยากเรียนไปนานๆครับ"

Lucky

English for Kids
"คุณครูสอนสนุก ทำให้เข้าใจบทเรียนมากขึ้น เเละกล้าพูดกับ teacher มากขึ้น"

Sanya

English for Kids
6 Languages, 1 School
Contact us today for a free trial lesson or assessment in Bangkok or online
Modulo is a high-end "boutique" language school. We do not only teach languages, we also teach students. What you want and what you need are always at the center of everything we do for you. No other language institute can deliver the same kind of personalized, high-quality content that we are famous for. All of this makes us Thailand's leader in high-quality language education.